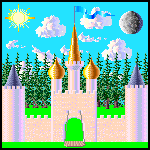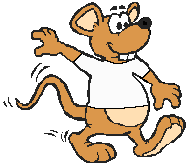 Hello, I'm Erik Mouse. The picture to the left is of me. Welcome to the Kingdom of Miracles. It is a castle surrounded by peaceful fields, meadows, and forests. Clicking on the links in the aqua colored boxes above will take you to other places in the Kingdom of Miracles. Here, you will find anthropomorphic toonlike characters living and having fun in the peaceful fields, meadows, and forests. The anthropomorphic toonlike characters are animals that have human characteristics; i.e. having the ability to walk on hind legs. Right now, we call ourselves "morph" because it is short for anthropomorphic toonlike characters. I am one of the furs that live in the peaceful forests of the Kingdom of Miracles. To learn more about me, click on the "About Erik Mouse" link in the aqua colored boxes above. Recently, I have made a new mouse friend that also lives here in the peaceful forests of the Kingdom of Miracles named Elvin Mouse. To view his picture and to learn more about him, click on the "About Elvin Mouse" link in the cobble stone boxes above.


During the time when we dealt with a lot of libelous comments being posted about the Kingdom of Miracles along with many bad entries posted in the guestbooks, I have met Monique Mouse when she joined my hangout. The reason Monique Mouse joined my hangout is because she couldn't stand the way I was being stalked and harassed. When Monique Mouse found out more about me, it meant more because she have a nephew who is like me. Since Monique Mouse was a good friend of mine, I have created her a page here in the Kingdom of Miracles called, "Monique Mouse's Personal Page". On that page, you will find some more information about Monique Mouse which is as much information we are allowed to put about her.


On a forum that I frequent and consider my favorite, I came in contact with another mouse who is female named Ami Mouse. Her name is pronounced Ah-mee, not Ay-mee. When I read her intro to the forum, it appeared that we shared a lot of common interests with each other. Since Ami Mouse seemed very kind when I talked to her, we decided to create a frame mirror of her homepage called, "The Mouse Hole of Ami Mouse". There is a couple of things about Ami Mouse's homepage we need to let you know about. Even though Ami Mouse has mostly furry related content on her homepage which is sorta like what you'll find here in the
Kingdom of Miracles, she is linking to furry art galleries of hers that may contain "Adult R" rated type furry artwork that is not allowed here in the Kingdom of Miracles. Ami Mouse's art galleries and homepage show that she does draw some nudes, but they're toony nudes that don't show anything. Since Ami Mouse's homepage doesn't have any of the "Adult R" rated artwork on it, we decided that creating the frame mirror wouldn't subject any children to it. Parental supervision is still advised since we have no control over the content in the art galleries Ami Mouse has.

In May of 2001 when I saw the Secret of NIMH 2 movie on the Toon Disney channel, I felt that I wanted to write a story about a village of mice where I was one of the characters because for some reason I wanted to be in it as another mouse. As I went to start writing the story, I forgot what Mrs. Brisby from the Secret of NIMH looked like. When I went to do a search for an image of Mrs. Brisby, I came across a webpage that had a background image of Mrs. Brisby and playing a lullaby called, "Flying Dreams". But, when I was listening to the lullaby and seeing the background image of Mrs. Brisby, I felt my mouse furriness even more and felt that Mrs. Brisby is a mother of my mouse furriness. I don't know why, but it is something that I feel and because of this, we have decided to create a page for Mrs. Brisby called, "Mrs. Brisby's Safe Home".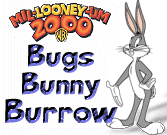 The Bugs Bunny Burrow is a website created by a cute little red head gal from Australia named Jodie. Because that she has a love for Bugs Bunny, the Bugs Bunny Burrow is dedicated to him and the rest of the Looney Tunes gang. In the Bugs Bunny Burrow, you can find just about everything on Bugs Bunny and the Looney Tunes. Among the many things that can be found in the Bugs Bunny Bunny are Looney Tunes Images, Sounds, and Merchandise. If you want to see what else the Bugs Bunny Burrow has, feel free to go check it out.

Click here to go to the new Looney Tunes page! You will also find an image link to it on the Cartoon Page. This is the new Looney Tunes Homepage, since the original has been taken down due to unknown reasons. Click on the Tweety image to go to the Homepage of Tweety USA who supplied us with this Animated Tweety image. Thank you Tweety USA!

The song that you are
listening to is a
Spring Time song.


Do an Inforseek search on the "Kingdom of Miracles" or anything else right from here:
Infoseek




Please Sign My Guest Book
View My Guestbook

Sign My Guestbook



This website has been viewed


times since April 03, 2003









Legal & Privacy Information About This Website